National Board of Accreditation (NBA)
Our 3 Departments Accredited by NBA
NBA Certificate (Computer Engg)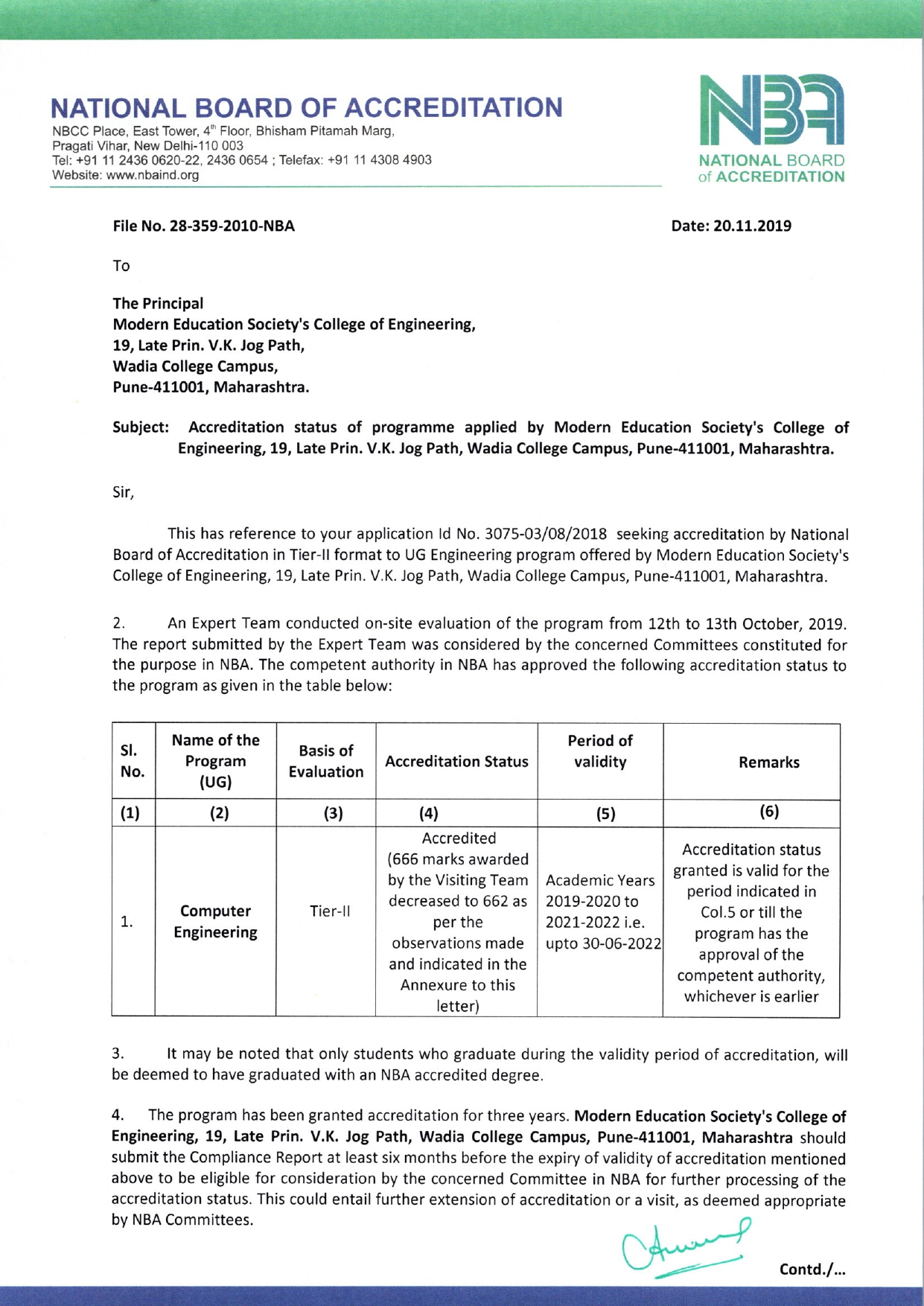 NBA Certificate ( E & TC Engg.)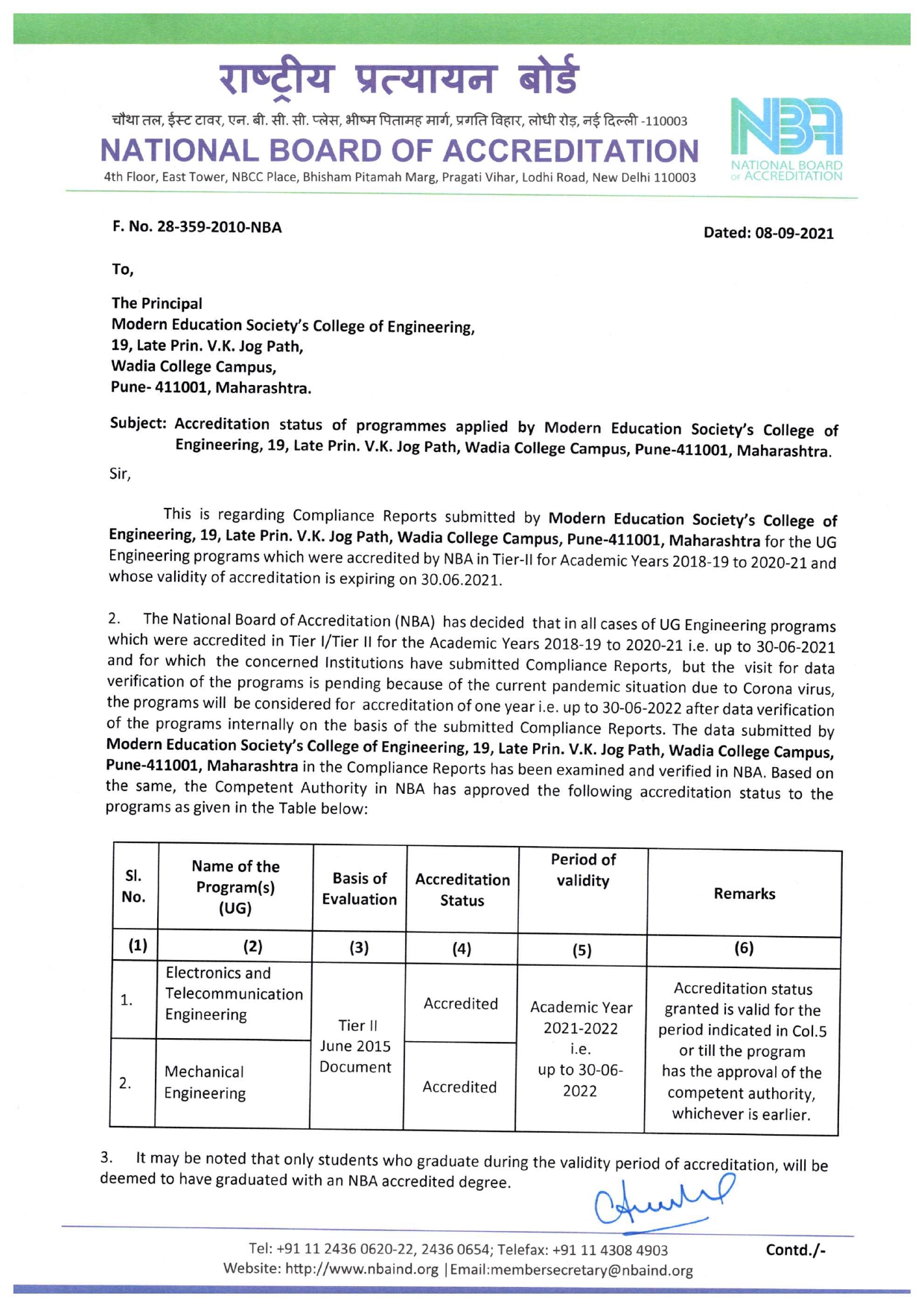 NBA Certificate ( Mechanical Engg.)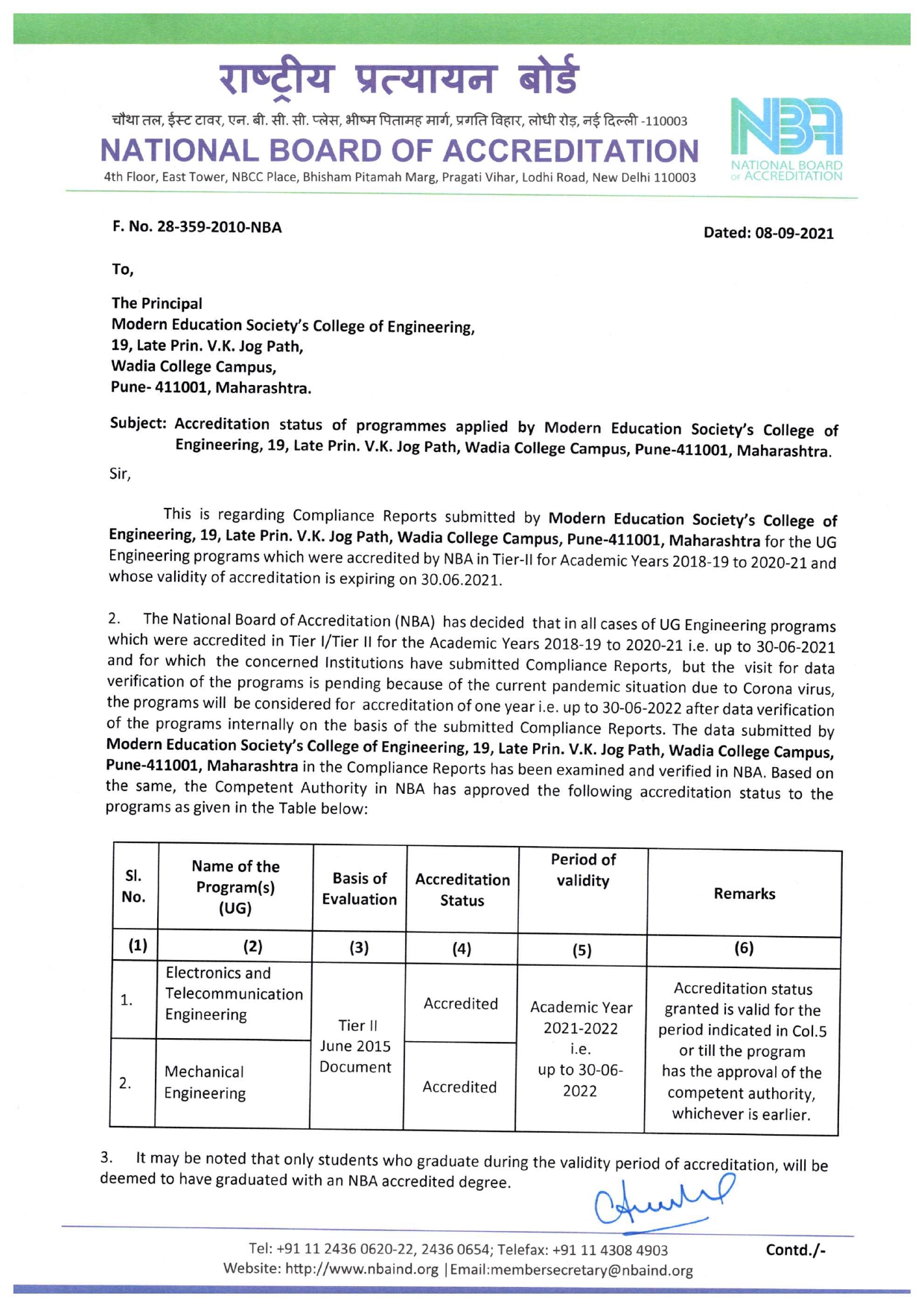 up to 30/06/2022
Our 3 Departments Accredited by NBA
Computer Engineering
Established in the year 1999, at present the Department of Computer Engineering has an intake of 180 for UG and 24 for PG. The department is accredited by the National Board of Accreditation (NBA). It has a Center of Excellence in High Performance Computing in association with CDAC. We have started with the honours course in areas such as Artificial Intelligence and Machine Learning, Data Science, Internet of Things, Cyber Security and Augmented and Virtual Reality since 2020-21.
Head of Department
Dr.(Mrs.) N. F. Shaikh
View Course
E & TC Engineering
MESCOE's Department of Computer Engineering is an exciting place to study and grow where thinkers become leaders and where there is thirst for knowledge. The department has 10 computer laboratories, all of which are, well equipped with latest equipments such as computers, printers and scanners. It also has a state of art seminar hall with a seating capacity of more than 150.
Period
Accredited by NBA(Up to 30.06.2222)
View Course
Mechanical Engineering old
Established in the year 1999, the Mechanical Engineering department of MES College of Engineering, Pune with its team of dedicated, qualified and experienced faculty, offers a sound programme at both UG and PG levels. The department aims at providing a valuable resource not only to the industries but also the society through excellence in technical education and research. To inculcate and foster Research abilities of students through staff, department always encourages departmental faculty for externally funded projects by Govt. agencies like BARC, BCUD, University of Pune, etc. and also by leading industries in and around Pune.MESCoE had exclusively signed MoU with ZF Steering India Ltd, BAKER Gauges Ltd, etc. for collaborative research work as well as development of laboratories, etc. for overall development of its students and departmental faculty. The recently renovated and modernized 'BAKER-MESCoE Metrology Laboratory'that is fully equipped and designed as per industrial standards with modern and state of art equipment is now more in line with the industrial needs.
Head of Department
Dr. V. N. Chougule
View Course